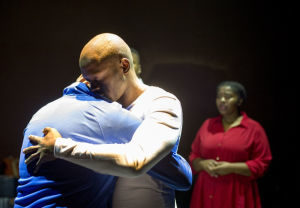 A love to conquer prejudice, operatically
SOMETIMES IT SEEMS as though the preciousness of opera has been hardwired into an understanding of the genre. But in truth, it's not all fancy velvet ball gowns, polished European language and nebulous love tales told with an utter sense of privilege and moment. The history of opera has been about the voice and the energy of the common folk, for whom it has often been written. Romeo's Passion is a work that will remind you of all of these elements, but more than that, it's a bit of operatic advocacy that touches so many social bases it will leave you reeling.
Above all, it is a beautiful aural spectacle: Presented in the intimate and sealed-off space of the stage at the Hillbrow Theatre, the action takes place in a square: literally, a small white square is painted on the black surface of the stage and it is here that a tale of forbidden love is told, in the round. The sound of the polished voices of the cast and the ultra-modern instrumental music of the trio accompanying them on piano, oboe and violin, offsets the hustle and messiness of central Hillbrow, a lower middle class suburb of Johannesburg, historically characterised by apartment blocks and immigrants, in a way that will give you hope.
You may watch this work and think of Benjamin Britten's operatic voice translocated into the rough and tumble of South Africa, armed as it is with its homophobia and prejudices and its fear of the power of what people might say. The similarities with Britten's ethos extend into the weaving together of words and values, and the flow of magnificent voices. At times the tenor July Zuma feels like a Peter Pears in terms of how he injects potent and irrevocable poignancy into his character.
And it almost feels impossible that added to this unabashed operatic ethos is something even more: a message. The tale is about a young man, named Romeo (Thabiso Masemene) who seems to be destined to be with a young woman (Sarah Suping), but there's a bloke on the sidelines (Zuma), who appeals to him more. Is it grandchildren for his mother (Hlengiwe Mkhwanazi) for which he will sacrifice his chance at love? It's a tale that resonates with Shakespeare's Romeo and Juliet, but there's a spin of arranged marriage and embedded trauma in the fabric of the tale that keeps it local and relevant. And the language has all the energy and profanity to keep it real.
Performing to an audience of local high school children, it's a magnificent piece that unequivocally plants seeds into independent thought about sex, other people's lives and what the future means in a tolerant society. Romeo's Passion is the kind of work that touches all the bases, giving a rich sense of hope, not only for this country's youth, but for the future of opera.
Romeo's Passion is composed by Cathy Milliken with libretto and direction by Robert Lehmeier. Sung in English with surtitles, it is performed by Mlamli Lalapantsi, Thabiso Masemene, Hlengiwe Mkhwanazi, Sarah Suping and July Zuma, accompanied by Paul Ferreira (piano), Zosukumizizwe Ntuli (violin) and Cathy Milliken (oboe) until September 21 at the Hillbrow Theatre, Johannesburg. Free admission — donations are requested. Visit www.umculo.org