Opera director Robert Lehmeier's career began in 1994. His productions have been seen in Berlin, Munich, Hamburg, Vienna, Barcelona, the Netherlands, Brunswick, Mainz, Schwerin, Osnabrück, Dresden and Wiesbaden and many other venues. Since 2011 he has also regularly worked in South Africa.
His productions include numerous first performances and premieres, amongst others the first production in German of Aulis Sallinens "The Palace"(words by Irene Dische and Hans-Magnus Enzensberger) in 1998. For the opening night of the 2002 Munich opera festival he staged Hans-Jürgen von Bose's Kafka opera "K-project 12/14". In Berlin he has regularly created new opera works in collaboration with Neuköllner Oper. "Angela – a national opera" (Schwemmer/Frowin) about the then-chancellor candidate Angela Merkel, gained international attention; followed by "Friendly Fire" (Arp / Bisowski), "Moshammeroper" (Nellison / Hammerthaler) and "Fanny und Schraube" (Müller Wieland / von Baulitz). He also staged Brothel Ballad ("Bordellbalade", Eggert / Franzobel) in cooperation with the Kurt-Weill-Fest in Dessau.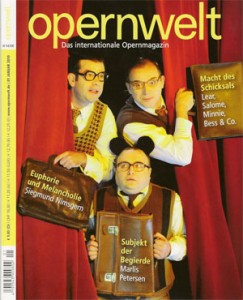 His new version of "Cosi fan tutte" for ten men was invited to the Wiener Festwochen in Vienna. It was subsequently seen in a new production in Hamburg at the Deutsches Schauspielhaus and then also toured to Switzerland and Barcelona (Gran Teatre del Liceu). His adaptation of the text of Cosi fan tutte was nominated in the category "best German language piece of theatre" in the annual critics' poll of "Theater heute" ("Theater today"). "Ariadne auf Naxos" and "Werther" were both nominated in the category "best production" in the critics' poll of "Opernwelt" ("Opera World") and Gurlitt's "Wozzeck" was nominated in the category "best performance". "Der Zarewitsch" received a distinction from the Bayerischer Rundfunk (Bavarian Broadcasting).
In the field of musicals and operetta he has staged both the American genre (Bock, Rodgers and Hammerstein, Kander and Ebb, Bernstein) and the Viennese and French operetta of the 19th century. He has directed two productions of "Die Fledermaus" for Nationale Reisopera Enschede and for Mainz. Recently he has focussed on several productions of Franz Lehar operettas ("Giuditta", "Der Zarewitsch", "Graf von Luxemburg").
Since 2011 he has been on the managing team of Umculo/Cape Festival which aims to reposition opera in South Africa (www.umculo.org). Purcell's "King Arthur project" 2011 was produced in collaboration with soloists and 200 young people in the townships of Cape Town. It was followed by Purcell's "The Fairy Queen", with premieres at the UJ Theatre Johannesburg and the Joseph-Stone Theatre in Cape Town in spring 2012 and more performances in 2013. Spring 2015 saw the premiere of "Comfort Ye" at Artscape in Cape Town, a new opera with music by Handel and Cathy Milliken, for which Lehmeier wrote the libretto. This was followed by "Le nozze di Figaro" in 2016 with students of North West University Potchefstroom. In September 2018 "Romeo's passion" was premiered at the Hillbrow Theatre in Johannesburg, again based on a libretto by Lehmeier (music by Cathy Milliken).
"Comfort Ye" received a Yam Award (Jeunesses Musicales/Reseo) in the category "Best Opera for young audiences" in 2015, and again in 2019 for "Romeo´s Passion".
"Umculo" is the winner of the International Opera Award 2019 in the category "Outreach and Education".