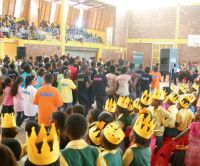 "King Arthur Kapstadt"
Opera  May 2011

South Africa
Cape Town
The idea of introducing children at a young and impressionable age to the world of opera is by no means new: in 1949 Britten´s now rather dated and somewhat precious Let´s Make an Opera appeared; there is also Alan Ridout´s moving The Burning of Jan Palach (sadly still unpublished), which caught the spirit of 1970s pro-democratic protest; Malcolm Williamson added to the repertoire with Julius Caesar Jones and The Happy Prince; and the South African composer Peter Louis van Dijk has composed a highly effective work for young performers based on the same Oscar Wilde story.
As an imaginative part of the UMCULO/CAPE FESTIVAL (an international music organization launched last year by Shirley Apthorp, which supports lasting social change through music in South Africa), more than 200 schoolchildren, most of them black, were given the opportunity to take part in a rather unusual performance of Henry Purcell´s `semi-opera´ King Arthur (March 6 at the ZOLANI CENTRE, GUGULETHU). This was an especially important event given the fact that music is a much-neglected element of education in most South African schools. For this occasion the work was drastically reduced from its original five acts to one continuous hour of singing and acting, and the solo roles (more than 30 in Dryden´s original libretto) cleverly compacted for six solo singers accompanied by a neat little double quartet of strings and two trumpets. They and the distinguished South African harpsichordist Erik Dippenaar were all economically directed by the Dutch conductor Gerben Grooten, who now devotes himself to South African community projects. A few traditional Xhosa songs were also interpolated, transforming this very `English´ story and music into a very `African´ occasion – a highly enjoyable afternoon of exuberant youthful music-making on a grand scale.
The visiting German director Robert Lehmeier and dramaturge Laura Ellersdorf managed the large cast with disciplined skill, and used the full expanse of the spacious hall, the audience watching from the gallery and sides. The young performers clearly showed that they were having the time of their lives, whether in the battle between Saxons and Britons or imitating the branches of an enchanted forest with upraised, waving arms and curling fingers. Some five school choirs were involved and sang with rich, clear tone under the unobtrusive and unfussy coaxing of Michael Dingaan.
The star of the performance was undoubtedly the experienced Mlamli Lalapantsi (Merlin) who sang with firm, resonant tone. Itumeleng Pooe proved a stylish and sweet-toned tenor doubling as Grimbald and a Shepherd, and there were also some charming contributions from Nombuso Ndlandla as Philadel. Charles Ainslie (King Arthur) made a good showing in the celebrated `Cold Song´. It was an unexpected delight to have a guest appearance from Angela Kerrison (Emmeline) and to hear this Botswana-born, Cape Town-trained soprano, who is now singing in Europe, soar over the large forces. During the wildly enthusiastic reception one could not help but wonder whether from among these young singers experiencing real opera, many for the first time, a future star might perhaps one day emerge to join some of the many distinguished South Africans now singing in the world´s great opera houses.
BARRY SMITH