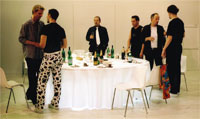 Cosi fan tutte
Opera, November 2003
Regular readers know all about Berlin´s principal alternative opera house: the NEUKÖLLNER OPER, which offers something approaching a full season on two ill-equipped floors of a dilapidaten building in one of west Berlin´s poorer districts. It tackles rarities, produces new works (in a variety of genres), and occasionally has a go at standard repertoire. The latest is Cosi fan tutte (spoken and sung in German). And it was an experience, Had it been put on at the Met, the House would have kissed its last benefactor´s cheque an irrevocable adieu.
But this version by Robert Lehmeier and Jens-Karsten Stoll should be hailed not only as a theatrical success, but as a major encounter with Cosi. It is, of course, su generis; with massive directorial intervention. It´s cut, it´s recast, it´s rescored, it´s rewritten and it´s 100 per cent faithful to the guts of what seems an ever more modern and astonishing work. A large round table is at one side of a stage wholly white, but for two black grand pianos set diagonally. At the table a group of gay men sit… silent. The meal is over but the bottles are not yet empty. There is tension. A potential symposium hangs in the air (a School of Lovers indeed). Finally one of them goes over to a piano and begins the overture. Soon there are two pairs of players. The opera has begun. And with tenors as Dorabella and Fiordiligi and a baritone as Despina we find ourselves locked into a deep, funny, but always dangerous emotional experiment.
And it is not a promisuous gay romp. A certain camp element is allowed in the first act, but that fits the musical style of "Smanie implacabili" and "Come scoglio" – here neatly dovetailed. Soon, however, the comedy is even more threatening than in Berlin´s old Ruth Berghaus or in its new Doris Dörrie stagings. And while the premises of the production free the sexual subtext (copulation does take place under the table) this only deepens the unstable world in play. True, "Un´aura amorosa" and "Per pietà" have been technically better sung (yet Jan Remmers, by not forcing an agreeable voice, was very effective in the former), but have they ever been taken more seriously?
The Neuköllner Cosi raises another Berlin issue. Inevitably one thinks of the recent Don Giovanni at the Komische Oper. There the directorial invasion simplified the work, Konwitschny´s iconoclasm was all conceited show, his "revelations" vapid. But Lehmeier and his team are both radical and revelatory and nothing is more dazzling than the shortened Act 2 finale. It is performed three times with different, and increasingly ambiguous, outcomes, during which the stage business marries theatrical fun with emotional depth to the enrichment of both. On August 17 I felt the difficulties and implications of the final pairings had never been more brilliantly liberated.